Your #1 Los Angeles Concession Rentals
Want to do something fun and exciting in your event, to have the most appropriate atmosphere and create a smile of surprise? Adding Los Angeles concession rentals and providing fun food at your event is one of the best ways you can do so. Having the best Los Angeles concession at your event would provide you with a means of your little California carnival. The aroma and taste of delicious popcorn bring back beautiful memories of the fun childhood carnivals we visited.
When you rent a Los Angeles concession from us, you can be assured that you would get the best machines we have in store. All of our concession machines are easy to use and are properly sanitized before every use. Browse through our inventory and click on the machine which would suit the need for your event.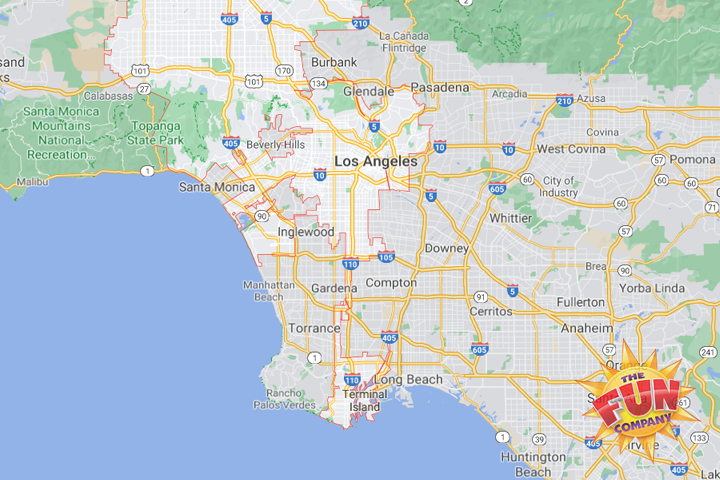 Best Rental Concessions Los Angeles For Your Event
The Fun Company offers a wide selection of cotton candy Los Angeles machines, snow cone Los Angeles machines, popcorn machine rental Los Angeles, and much more for your next event. Our food machines do not come with supplies included in the package. There is a minimal charge for extra supplies. You will need the same if you want to ensure that your guests do not feel left out in your event. All of our Los Angeles rental equipment is in top-notch condition. When you come to us for Los Angeles concession, you can only expect 100% customer satisfaction. Order online or call us today!
We have the following concession machines for your event. If you have any questions regarding any of the machines, give us a call, and we will help you out accordingly. Let the professional help you with anything you need at (626) 969-6571
Cotton Candy Los Angeles
Our cotton candy Los Angeles machines are super easy to use and come with supplies (extra charge). This special treat will prove to be a wonder for your guests. Those familiar with the smell of cotton candy would know what wonders it can do at any event. Kids and parents wouldn't be able to resist this delicious sweet treat at your event. You can now get the best cotton candy machine rental Los Angeles at one affordable price in your event. Our cotton candy Los Angeles makes it seem like you are at an Angeles baseball game but now you have it is at your own party.
Popcorn Machine Rental Los Angeles
Our popcorn machine rental Los Angeles is quite popular in and around Los Angeles and its surrounding areas. These are easy to fill, and within moments, you can provide your guests with a tub of delicious popcorn. Our popcorn machine rentals Los Angeles comes with supplies for 30+ people. Still, if you want to have extra servings, you need to get yourself the additional 50 servings package for only $15. We all know kids love popcorn machine rental Los Angeles and it will put a smile on everyone at the event with one simple machine.
Snow Cone Machine Rental Los Angeles
Our snow cone machine rental Los Angeles comes with different flavors to treat your guests. Our snow cone machine is relatively easy to use and can serve 40+ people at once. If you want to have more supplies, you can get the same from us at an additional cost. With the hot California weather, what a better way to cool down than with a snow cone machine rental Los Angeles.
Apart from the above concession machines, we also have shaved ice rental Los Angeles, tables & chairs, event coolers, and much more. You can visit our inventory to have your fair share of ideas on what we are providing to our clients for their events.
How To Book Los Angeles Concession Machines For Your Event
The procedure to book your preferred Los Angeles concessions is relatively easy. We made it our number one priority to make it easy and convenient for anyone to book a concession rental with little to no difficulty.
Follow the steps mentioned below. You will see that the process is relatively easy when you book your party rentals with us.
Click on the option which says "Add to Cart".
You can view the price for your preferred Los Angeles concessions. Choose the date for your event.
Choose a start time.
Choose an end time. You would also have the option to add to your rental concessions Los Angeles
If you want to continue shopping, then click on the option which says "Continue Shopping". If not, click on the option "Checkout".
Fill in the necessary details such as billing information, event information and personal information.
Select the payment option. You have the options to choose from Credit Card, Check or Raincheck.
Pay the amount, and you are all set for your event!
You are all set! You can quickly check out our items online. If you would like to know more about any equipment, give us a call. Our pricing includes set-up, but you might need to pay a small delivery charge depending on the location of your event.
Our primary service area is Los Angeles, CA. Other than that, we also serve in Los Angeles County, San Diego County, Orange County, Azusa, Bradbury, Monrovia, Citrus, Irwindale, Glendora, Vincent, Covina, Arcadia, East Pasadena, Sierra Madre, East San Gabrial, Temple City, Morth El Monte, Mayflower Village, Baldwin Park, El Monte, and San Dimas.