The Coolest Arcade Game Rentals Los Angeles
The arcade game rentals Los Angeles by The Fun Company will provide you with a unique blend of quality arcade rental equipment along with a full line of exciting arcade games. Whether you are planning for a banquet, backyard party, or any other party, we will rent the perfect arcade game rentals Los Angeles for your next event at a fair price! We take pride in providing top-notch customer service when it comes to any party in Los Angeles. With our courteous and knowledgeable staff, you will be able to rest easy knowing your event will go off without a hitch. Our crews will make it a comforting experience without much hassle.
We have multiple years of experience when it comes to providing the best arcade games in the Los Angeles area. This helps us make sure that every customer gets what they are looking for in their event. We understand that it is tough to host an event, and we will do everything to help you make your event successful. Put your trust in us like the rest when it comes to entertainment for anything along the lines of arcade-style games and more.
The Fun Company is the ideal place to book your arcade games for events Los Angeles. We ensure that you are entitled to the total, family-friendly entertainment for your next event. From private parties, fundraising events, carnivals, corporate activities, birthdays, and much more, we will provide our arcade game rentals Los Angeles CA, to meet your entertainment needs. Big or small, we provide our service to any event with the same determination. Your event would be a sure hit with The Fun Company, proudly serving for many years to events all over California.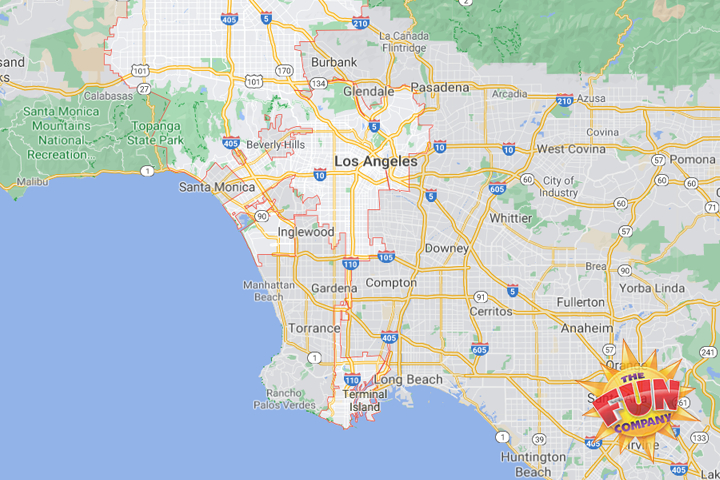 Best Choice for Arcade Games Los Angeles
The Fun Company has all types of arcade games Los Angeles, we are considered the go-to company with the best selection of arcade game choices in Los Angeles, California. We don't just have the best selection; we also rotate its products out as needed to keep the quality of the games intact. Who would have thought that renting arcade games in Los Angeles that are delivered to your event would be possible? We give our customers plenty of options to choose from. We have everything from your classic Tetris to Big Game Pro Hunting games.
If arcade games Los Angeles is not enough for your party, we also provide other equipment such as concessions, carnival games, mechanical rides, inflatables, and much more. It is always great to include our wide variety of arcade games paired with an inflatable. We have thousands of happy customers all over California from schools, charity events, and even sports team events. You will not hear one bad thing about the quality, affordability, and huge selection of options when you are ready to rent arcade games rentals Los Angeles.
Quality Arcade Games in Los Angeles
At The Fun Company, we take considerable pride in our reputation for fast and efficient services to provide quality arcade games in Los Angeles. We understand that your event is of the utmost importance, and we will work hard to make it a grand success! Let our seasoned professionals help you to throw the best event in Los Angeles featuring all the classic arcade game consoles. If you are looking for the best place to rent arcade games in Los Angeles, The Fun Company is here for you. We have a vast selection of arcade games to suit the requirement of any party. Our arcade games in Los Angeles would provide the best means of entertainment when it comes to your event.
The Fun Company comes with dozens of games for you to choose from for your event. Some of our popular products include monopoly pinball, bumper pool, Tetris, centipede, big buck hunter pro, and much more. Our Los Angeles arcade games will be a great addition to your event and enjoyed by all ages. Once you confirm your booking, our professional team members would ensure that the rental equipment is delivered on time and is set up before your event starts. It is our job to make sure that you can enjoy your event! We will deliver and set up arcade games for rent Los Angeles and its surrounding areas. If you are looking to set up several games for your event, we would be more than happy to discuss the pricing options.
If you have something specific and unique you are looking for, let us know, and we will try out best to have it arranged for you. Contact us today to schedule your arcade games Los Angeles CA.
How To Book Your Arcade Game Rental Los Angeles?
You can place your bookings via call at 626-969-6571. We are available to book your arcade game rental Los Angeles from Monday to Friday, 9 A.M to 5 P.M. For any further assistance, you can always give us a call, and we will provide you with the necessary solution.

Click on the option which says "Add to Cart".
You can view the price for your preferred arcade game rental Los Angeles. Choose the date for your event.
Choose a start time.
Choose an end time.
If you want to continue shopping, then click on the option which says "Continue Shopping". If not, click on the option "Checkout".
Fill in the necessary details such as billing information, event information, and personal information.
Select the payment option. You have the options to choose from Credit Card, Check, or Raincheck.
Pay the amount, and you are all set for your event!
At The Fun Company, the quality of our services is unbeatable for any vintage arcade game rentals Los Angeles. Our professional staff members are highly reliable, punctual, flexible, and accommodating. Even if you run a bit over time with your event, we make sure not to charge our customers with an extra charge, schedule permitting. Our primary goal is to have your guests have a great time. We will show you the working operations for the arcade game you have chosen to rent. If you want the best arcade game rentals Los Angeles, look no further than The Fun Company. We are your trustworthy agency when you want arcade games for rent in Los Angeles.