Your #1 Supplier for Carnival Rides for Rent Los Angeles
When you get carnival rides for rent Los Angeles, it is sure to provide your event hours of fun. Our carnival rides are a huge attraction for any School Carnival, Street Fair or Backyard Party. In California carnival rides are one of the hottest things on the market for all ages. The Fun Company brings carnival rides Los Angeles, Ca to a new level that you need to see, with such a variety of rides we will give your Los Angeles party exactly what it needs.
When you need carnival rides for rent Los Angeles from us, you can be assured that we will deliver a safe product at your event, on time and clean. All our carnival rides are safe to use and follow all safety standards per state and local guidelines. Our rides and inflatables are some of the cleanest and most affordable rides in the business. We always ensure that the latest and newest collection for carnival rides rental Los Angeles will be delivered. If you are looking for any inflatable rides, we have them too! We also have a vast collection of sports games, arcade games, mechanical rides, and interactives.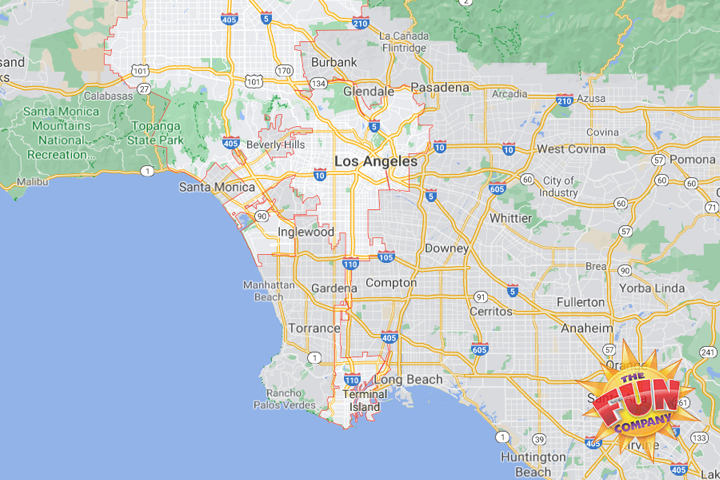 Best Carnival Rides Los Angeles
We are known for the huge variety of carnival rides Los Angeles that we carry. We have over 10 carnival rides to choose from for your next event. All our products are the most durable and purchased from the best manufactures.
We have some of the most excellent carnival rides Los Angeles, CA. Whether you want an oversized mechanical ride, a simple Merry Go Rounds, or just your typical inflatable bounce houses, we have it all at an affordable price. The Fun Company delivers in and around the Los Angeles area for your event. We also provide an excellent carnival area for our clients who want to make the best out of our packages.
You can select any one of the carnival rides Los Angeles as described below. We have the latest stock and update the same every week.
Ballistic Carnival Ride: Our Ballistic Carnival Ride is a thrilling fixed chair swing that will make you feel as if you're soaring through the air. This would be the major attraction at your next event and is suitable for all ages. It can hold up to 7 riders at a time.
Pirate's Revenge: This is a swinging boat amusement ride suitable for both kids and adults alike. These carnival ride rentals in Los Angeles are perfect for company picnics, school events, church events, and festivals.
Carousel: The Carousel or commonly known as Merry Go Round, is a famous traditional ride in any event. Our product is quite popular amongst kids of all ages in LA. This ride comes with 24 horses.
Cliffhanger: The Cliffhanger would be another of the significant party attractions at your event. To maximize the fun at your event, rent one from us, and we will help you set it up within no time.
Apart from the above carnival rides, we also have the standard Ferris wheel, orient express and much more to make your event super exciting! Please look through our carnival rides Los Angeles inventory to know.
Why Choose The Fun Company for Carnival Rides Rental Los Angeles?
The Fun Company takes the stress out of planning all events, no matter how big or small. Our friendly and knowledgeable employees take pride to ensure you have nothing to worry about.
Our website gives everyone great ideas on what carnival rides rental Los Angeles would best fit your party. Our website is gauged to giving you all the knowledge you need when booking carnival ride rentals Los Angeles, in the aspect of sizing, ages best for the ride, and where we can bring the carnival ride.
When it comes to carnival rides rental Los Angeles, we bring safety and affordability to all carnival rides. We are not in business to break the bank, we want to give our customer the best price, and give you plenty of options for a Los Angeles party. While providing Los Angeles with all-party rental anyone could think of for 28 years, we have customer satisfaction down to a science. With thousands of happy customers over the years, we are the carnival ride Los Angeles company you have been searching for.
How To Place Your Order For Carnival Ride Rental Los Angeles?
You can now place your order by calling us directly at 626-969-6571 between Monday to Friday from 9 am to 5 pm. You can also book a carnival ride rental Los Angeles online by following the steps below.


Click on the option which says, "Add to Cart".


You can view the price for your preferred carnival rides Los Angeles, CA. Choose the date for your event.


Choose a start time.


Choose an end time. You would also have the option to rent carnival rides Los Angeles


If you want to continue shopping, then click on the option which says "Continue Shopping". If not, click on the option "Checkout".


Fill in the necessary details such as billing information, event information, and personal information.


Select the payment option. You have the options to choose from Credit Card, Check, or Raincheck.


Pay the amount, and you are all set for your event!


We provide the best carnival ride Los Angeles. Our rides are pretty perfect for large to medium-sized events. You can rent our rides for the whole day. Our carnival rides are suitable for kids of all ages. We have some of the best collections you can ever come across. We also call our carnival ride rentals adventure attractions since it takes effort by the riders to have fun in our equipment!
Call us today to start planning your next event! Our professional event specialists are here to help you out with the complete planning for your event.
Our primary service area is Los Angeles, CA. Other than that, we also serve in Los Angeles County, San Diego County, Orange County, Azusa, Bradbury, Monrovia, Citrus, Irwindale, Glendora, Vincent, Covina, Arcadia, East Pasadena, Sierra Madre, East San Gabrial, Temple City, Morth El Monte, Mayflower Village, Baldwin Park, El Monte, and San Dimas.