The Best Los Angeles Jumper For Your Next Event
It is time to maximize the fun at your event with our Los Angeles jumper. We provide some of the best jumper rentals in Los Angeles, our jumpers are standalone jump houses, or a slide and jumper paired together, making it a wonderful combo bounce house. You will undoubtedly love our jumper rentals in Los Angeles, for your event since you need not choose between a slide or a bounce house Los Angeles. When you rent a jumper from us, you are entitled to the best of both worlds California! Your event will be super fun for all the kids, our Los Angeles jumper rental will provide them with hours of entertainment while you get to have fun with the adults at your party. The Fun Co. in Los Angeles, CA, is the leading provider for a quality jumper in Los Angeles. Our products will not only provide entertainment to your kids, but we also provide inflatables and games for adults.
If you are looking for a top-notch Los Angeles jumper, you have reached the right spot. We have a massive selection for awesome jumper rentals Los Angeles for you to choose from. You can visit our inventory and select the product that will suit your event. All of our party jumper rentals Los Angeles are sanitized before every use, so you can be assured that your guests would have a good clean, and safe time at your event. All our units are maintained daily and are kept in 100% working condition throughout the year. So go ahead and rent a jumper Los Angeles today. Check out our obstacle course, they are sure to add some friendly competition fun to your event. You can also check out our carnival rides or water slides if you think these would suit the requirement for your event. The need for a concession machine is a must for any event, so make sure that you check those out too.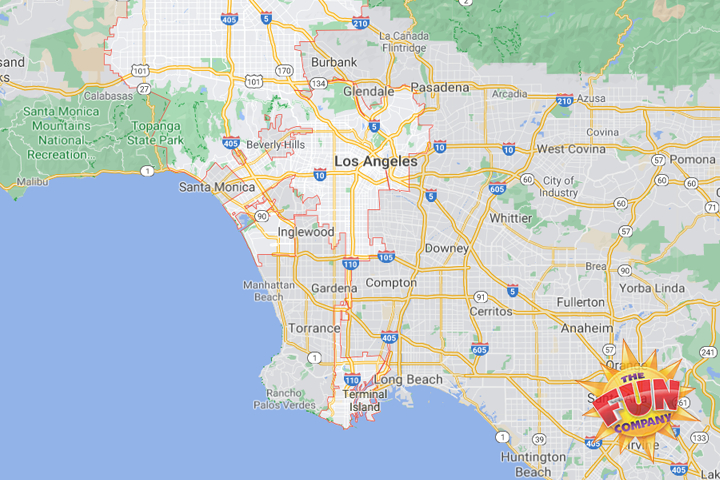 #1 Jumper Rental Los Angeles
Looking for a combo jumper rental Los Angeles, we are your go-to and we guarantee a quality jumper combo will be delivered to your party! Our units are manufactured by trusted brands and have sufficient space for your guests to have fun. Our combo jumper rentals Los Angeles come in different configurations and sizes, so you would have the option to select the best fit for your event. Even if your event calls for a toddler jumper rental Los Angeles, we have you covered.
If you are hosting a themed party, worry not since our inventory consists of a variety of themed combo bouncers. Looking for something on the coast, our pirate jumper rental Los Angeles is sure to make an awesome centerpiece at your event. We will clean and sterilize all units before delivering them to your event. Our professional team members will set up and place your combo jumper rentals Los Angeles at your event, where you want it placed in no time. We try to cause as little interruption to your event as possible. Our team members are highly trained and are there to assist you with your event. We want you to have the best jumper rental Los Angeles at your event. All of our combo bouncers are dry, so you need not worry about having a constant water source at your event. We even offer an awesome obstacle course jumper rental Los Angeles that is sure to add hours of competitive fun to your event.
Booking Your Jumper Rentals in Los Angeles, CA
The Fun Co. offers the best jumper rentals in Los Angeles, CA. We deliver the necessary party rental equipment for your event. With the best rent jumper Los Angeles company, you can expect your combo bouncers to be cleaned and sanitized to ensure your safety. Once you reserve your preferred Los Angeles jumper, we will get in touch to confirm your reservation. If you have any questions about the reservation procedures, you can call us at 626-969-657.
It is pretty easy to book your jumper rental Los Angeles.


Select the date and time for your occasion after you have added the combo bouncer to your cart.


Enter billing and event information.


Click on the option which says "Pay".


Make the payment which is displayed on the screen.


The Fun Co. also provides water slides to sustain the hot days in Los Angeles, CA. Our service area includes Los Angeles, Los Angeles County, San Diego County, Orange County, Azusa, Bradbury, Monrovia, Citrus, Irwindale, Glendora, Vincent, Covina, Arcadia, East Pasadena, Sierra Madre, East San Gabrial, Temple City, Morth El Monte, Mayflower Village, Baldwin Park, El Monte, and San Dimas.