#1 Company for a Water Slide Rental Los Angeles
Water Slides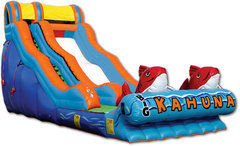 There is no other way to beat the summer heat than having the best water slide rental Los Angeles. Here at The Fun Company, we offer top-notch choices when it comes to a water slide for rent in Los Angeles. Over the past years, we have been providing our services to customers all over Los Angeles and surrounding areas. Our selection of water slides offers an excellent means of entertainment for your guests, accommodating ages 3 and up with even adults too. Who knew they would be so fun? Find out why we are the #1 company for a water slide rental Los Angeles kids love.
Everyone knows that battling the heat in California is not an easy task during the summer months while the kids are off school and looking for things to do. Especially planning a kids birthday party or field day thinking of ways to keep the kids entertained with the heat. Therefore, our water slides for rent in Los Angeles are the best option when it comes to cooling off your guests as they can climb and slide before splashing into the refreshing pools for hours on end. The fun never ends!
We have numerous items available for an inflatable water slide rental Los Angeles events need. Just go through our inventory, and choose the best slide for your event, always remember our friendly and professional staff is on hand to answer any questions. Feel free to message us or give us a call.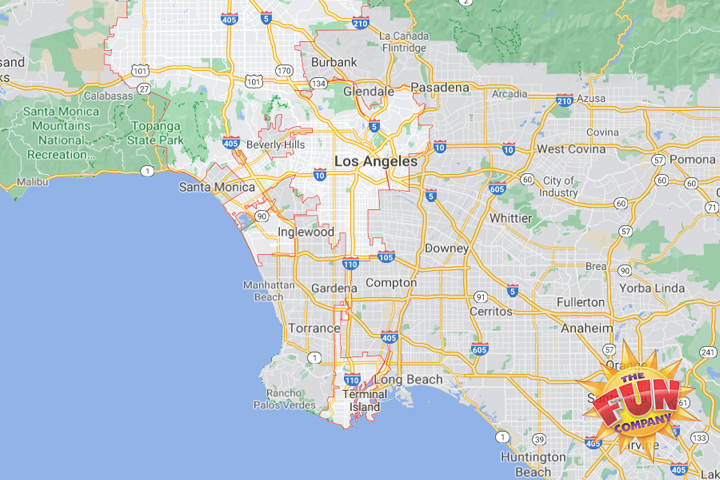 All Kinds of Sizes Available for Water Slides Los Angeles
When it comes to fun in the sun in the great state of California, there is nothing better than inflatable water slides Los Angeles kids go crazy over. We have various sizes to choose from that are great for all age ranges, depending on size. Anything from 13ft to 15ft for the little ones to the vast 18ft and larger for the teenagers and older crowd. Even better, they come in vibrant color schemes and themes to brighten up your party.
Our inventory consists of single-lane and dual-lane options that feature both inflated splash pool landings and large catch pools. Don't forget our inflatable slip n slide options as well for even more fun! Just a little twist on the old school slip n slide but an inflated version with a giant splash pool at the end and with dual lanes for twice the fun. The teenagers and college crowd love them. See, we do have something for everyone when it comes to water slides Los Angeles!
Is it too cool for a water slide rental Los Angeles CA? No worries because we also have a massive collection of inflatable dry slides or combos that have a slide too along with the jumper for you and your guests to enjoy. With options even larger like the obstacle courses that combine wet or dry slides with tons of interactive features to keep your guests challenging each other the entire time of the event. The second-best thing to our water slides Los Angeles raves over!
Make Your Summer Cool with Water Slide Rentals in Los Angeles
For years, we have been providing ways for our customers to enjoy parties and events during the crazy temperatures during the summer months with the coolest water slide rentals in Los Angeles. A good option to make your summer cool is with our water slide rentals Los Angeles knows they can rely on. Every year, we cater to thousands of birthday parties at homes, field water days at schools and churches, summer camps, corporate cookouts, public gatherings, sports team events, and many other reasons to just get together amongst family and friends.
With so many options to choose from, fun and laughter can be had from all. There is a solution for any party type or location whether it's a residence or commercial address or local public park. Keep in mind, some park locations don't allow Los Angeles water slides at their location. Contact the providers of fun at The Fun Company today for all your water slide rentals in Los Angeles and surrounding areas.
Why Choose Us for a Water Slides Rentals in Los Angeles
For almost three decades, the folks at The Fun Company have been servicing Los Angeles County and surrounding areas with water slides rentals in Los Angeles consisting of all types for all sorts of parties and events. We have become known as the go-to trusted provider for everything related to inflatable water slides rentals in Los Angeles CA. There is a good reason because we provide top-notch service to our customers from start to finish with your rental. Everything from the initial communication via our website or other means all the way to the follow-up after the event and everything in between. Our professional delivery crews will arrive at your location and set up all of the equipment in a timely manner sometimes hours before your event. All you have to do is just make sure the setup area is ready prior to their arrival and let us know where you would like it. We do the rest! Just sit back and enjoy the company for the event while the kids enjoy water slide jumpers Los Angeles.
All our water slides rentals in Los Angeles are made from commercial-grade lead-free vinyl material and are thus sturdy. These can easily accommodate 2-3 children at a time in rotation with only one sliding at a time. These are made by various reputable manufacturers in the industry. No need to worry about any of our water slides being dirty or falling apart for your event. Our crews ensure that all our waterslides for rent Los Angeles are cleaned and sanitized appropriately before delivering them to your location. Let us take the hassle of making your summers fun! If you haven't already, browse through our inventory and select the water slide jumpers for rent in Los Angeles that you think would suit your event. Call us at 626-969-6571 to learn more!
How to Book Your Water Slide Los Angeles?
Booking your water slides Los Angeles has never been easier! You can now quickly get your water slide for rent Los Angeles customers to love by following the steps mentioned below. It only takes a few minutes!


Click on the option which says "Add to Cart".


You can view the price for your preferred water slide rentals Los Angeles CA.


Choose the date for your event.


Choose a start time.


Choose an end time. You would also have the option to book the inflatable overnight.


Click on "Checkout".


Fill in the necessary details such as billing information, event information, and personal information.


Select the payment option. You have three options to choose from Credit Card, Check, or Raincheck.


Pay the amount, and you are all set for your event!


We understand that it is tough to organize an event. Give us a call or send us a message via our website and our event specialist will help you with choosing the best waterslides for rent in Los Angeles. All you need to do is look through our website and place your order online today 24/7 from any device at your convenience from anywhere!
Our water slide rentals Los Angeles CA is the latest and greatest means of entertainment for any party in Los Angeles, CA, and its surrounding areas. Do not forget to check out all our party rentals and make your event that much better or to even complement your choice to rent water slide Los Angeles. We offer interactive inflatables, jumpers, dry slides, obstacle courses, mechanical rides, carnival rides, tables and chairs, and many more great options for other party rentals. Let The Fun Company make your event one to never forget.
Delivering FUN with a Waterslide Rental Los Angeles Area
For many years, we have delivered tons of FUN with a waterslide rental Los Angeles local residents trust for events at many homes, businesses, schools, churches, parks, and the like all across the Los Angeles area including the surrounding cities. We have provided wet n wild fun to many kid's birthday parties at their homes as well as local public parks. The fun doesn't stop there because the school and church field days are amazingly fun too as well as the summer camp water days with a waterslide Los Angeles. Over time, we have been to many of the local public schools in the Los Angeles School District as well as local colleges for large events as well. They all love us when planning their next kids water slide party Los Angeles.
The Fun Company operates out of Azusa but services Los Angeles, California, and surrounding cities with counties such as Los Angeles County, San Diego County, and Orange County. Our delivery area consists of the following cities: Azusa, Bradbury, Monrovia, Citrus, Irwindale, Glendora, Vincent, Covina, Arcadia, East Pasadena, Sierra Madre, East San Gabrial, Temple City, Morth El Monte, Mayflower Village, Baldwin Park, El Monte, and San Dimas. If you don't see your city above, please give us a call to discuss your event because chances are we may be able to accommodate depending on the giant water slide rentals Los Angeles you choose.
Frequently Asked Questions About Our Water Slides Rentals Los Angeles
At The Fun Company, we want to provide our customers with everything they need to make a decision, and choosing which water slides rentals Los Angeles is perfect for their event. In the efforts over the years, we have combined some of the most frequently asked questions from our customers. Here are some of the most common questions or concerns:
Also, you can check out our full FAQs for even more on our company policies and procedures as well as important information regarding water slides for rent Los Angeles.
Testimonials from Customers for a Water Slides Rental Los Angeles
See some of our happy customers from all the years The Fun Company has been providing water slides rental Los Angeles customers love. Our reputation is second to none when it comes to customer service and the quality of inflatable waterslides we provide. Check out some of the recent reviews from happy customers below and be sure to browse Google and social media as well! Trust us like the rest when it comes to the best choice for a water slides rental Los Angeles.
"The fun company did an awesome job providing FUN for our event! They were on time and everything worked great!" -Brianna Christensen
"Great service!!! Prompt. Arrive to set up and take down on time. No hassles here. Prices are very competitive and they want to earn your business. We had staff on hand to operate the mechanics. Extremely polite and professional. I would definitely recommend this company and will be using them in the future." -Randy White
"We rented a water slide for my sons birthday and it was a hit!! Laura at The Fun Company is so helpful and nice to work with and the delivery guys were super polite and friendly. Will definitely rent party supplies from the Fun Company again!!" -Bonnie Conte