The Best Mechanical Rides For Rent in Los Angeles
At the Fun Company, we take pride in providing you with the best California event of your life! If you are looking for the best trackless train rental Los Angeles, you are on the right page. It doesn't matter if you host a simple event or a school festival in Los Angeles. Our mechanical bull Los Angeles has been turning heads since the beginning of time. We have you covered in every way. We have a fantastic variety of rides for your next event!
See-through our inventory and select the best mechanical ride for your event. You can also give us a call and learn more about our bounce houses and water slides for your next event.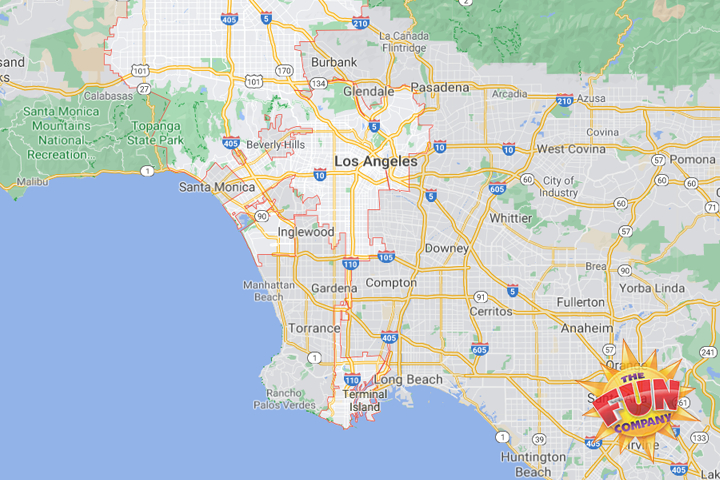 #1 Mechanical Rides For Your Event
When looking for the best mechanical bull rental in Los Angeles, the Fun Company has it all. We provide super fun rental equipment for events and parties. Right from small backyard parties to large social gatherings, our trackless train in Los Angeles would give the maximum means of entertainment in your event. You wouldn't want your guests to feel dull during any event. All the more reason why you should get the best trackless train rentals in Los Angeles without any second thought!
All of our equipment is sanitized before delivering the venue. They are made out of high-quality material. Since safety is our uppermost priority, we will double check any equipment we provide at your venue. You wouldn't find any better option when it comes to our products. We have made an upstanding name for ourselves in Los Angeles and have served hundreds of clients over the past years.
Have a look at the exotic mechanical rides below. We try to update our inventory as frequently as possible. If you don't find the mechanical ride you are looking for for your event, contact us, and we will try our best to arrange it for you.
Who is ready to take on The Bull? Our mechanical bull rental in Los Angeles is known for its high-quality build. It would be controlled by a professional operation from our company and is 100% safe to ride. Our trackless train in rentals in Los Angeles has grown from something you want to something you need for your next event. Our trackless trains are efficient and can run indoors and outdoors without any hassle. Both adults and children can have a great time riding on our trackless train. Want some adventure in your event? Try out our hard rock wall, perfect for the little ones who want to enjoy rock climbing. This is a significant party attraction for the kids and is operated by a safety professional from The Fun Co.
Apart from the above rides, we also have Euro Bungee, Human Gyroscope, and Wizzer Carnival Ride. All our equipment is well maintained, and we go through double-checking before sending it to your event. Safety is our #1 priority. We wouldn't want any children or adults to get hurt while using our equipment—all the more reason for our double safety check protocol.
How To Book Your Preferred Mechanical Ride?
We understand that it is quite hard to host an event. This is the reason why we have our online website where you can book your rental equipment 24x7.
Follow the steps mentioned below to book the best mechanical bull Los Angeles for your next event.


Click on "Add to Cart"


Select the date and time for your event.


Fill in the personal and event details.


Complete the payment as shown on your screen.


You are all set! For your next event, contact us, and our event coordinator would help you out with the best selections for you. You need not worry about your guests getting bored when you rent equipment from us.
We provide our services in Los Angeles, Los Angeles County, San Diego County, Orange County, Azusa, Bradbury, Monrovia, Citrus, Irwindale, Glendora, Vincent, Covina, Arcadia, East Pasadena, Sierra Madre, East San Gabrial, Temple City, Morth El Monte, Mayflower Village, Baldwin Park, El Monte, and San Dimas.
For any further queries, contact us, and we will assist you accordingly.